Hello lovelies! Happy Monday!! :) I'm so thankful God has brought me even to this point, because it could have been otherwise. Hope all of you are having a lovely day thus far. Last Friday I posted a picture of my hair that I did in crochet braids. I promised to post today with the full details. Continue reading below for more information.
Crochet braids, what's that?
Basically, crochet braiding is cornrowing your own hair, then feeding extension hair through the braids using a latch hook or bead feeder. To start off, you usually cornrow your hair in a pattern suitable to you. Most people usually do about 10 cornrows going straight back, others do a variety of braids in the front, then straight back towards the back half of the head. I wanted to be able to part the front of my hair in bangs, or side swept or the middle if I chose, so my cornrows were done to suit that. In the back, I was aiming to have it go across the back of my head that way I could wear it in a ponytail if I chose.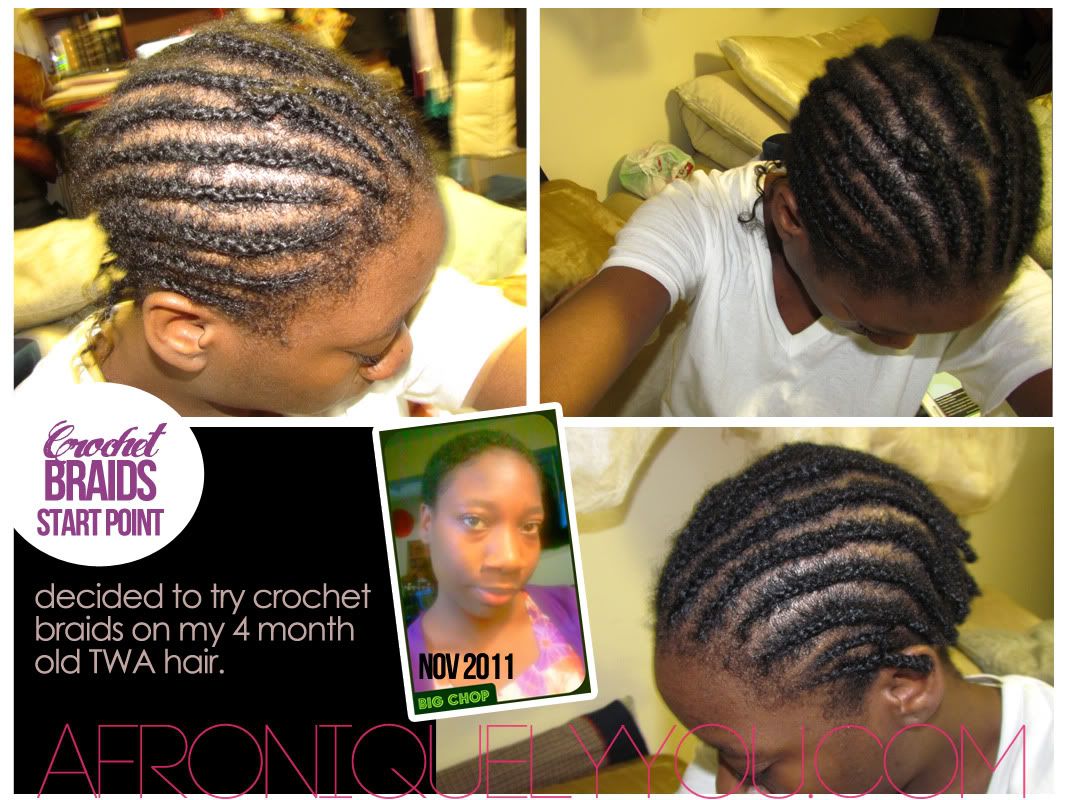 As you can see my hair is uber short! I was shocked myself I was even able to braid it, but on that same note, 4 months since the chop, and it's truly growing!! YAY! The pictures above showcases the braids I did. Perhaps when my hair is a little longer, I'll be able to do much neater and better braids. I'm not accustomed to cornrowing short hair, so this alone was a challenge for me.
The Process of Crochet Braids
After installing the braids/cornrows as seen above, you then take a latch hook and feed the hair through each braid. I didn't get to record my process of doing this, nor take pictures sadly, but I have links to a helpful bunch of videos at the end of the post. Once the braids are done, you can go ahead and moisturize your scalp. While braiding, I used the Shea Moisture line Balancing conditioner as a leave in moisturizer. Then once I completed my crochet braids, I had used the Naturalista Cosmetics Juicy Leave in to moisturize my scalp.
Hair info: I used Model Model Glance I believe it was their Water Wave weaving hair. I had to cut the hair off the weft in order to use it. I had this hair for over 2 years and never had a chance to truly use it. It was previously glued on to a stocking cap in an effort to make a wig, but not having enough hair, the wig went incomplete. I had to rip the glued wefts off the stocking cap, lol. But thankfully, it was just enough hair to do the crochet braids without problems. I'm aiming to leave these in for the month. Give my hair and scalp a much needed break. I don't I'll be rocking a wig any time soon again, they make my head itch and my scalp feel bothered. These crochet braids actually have my scalp breathe.
a close up of the scalp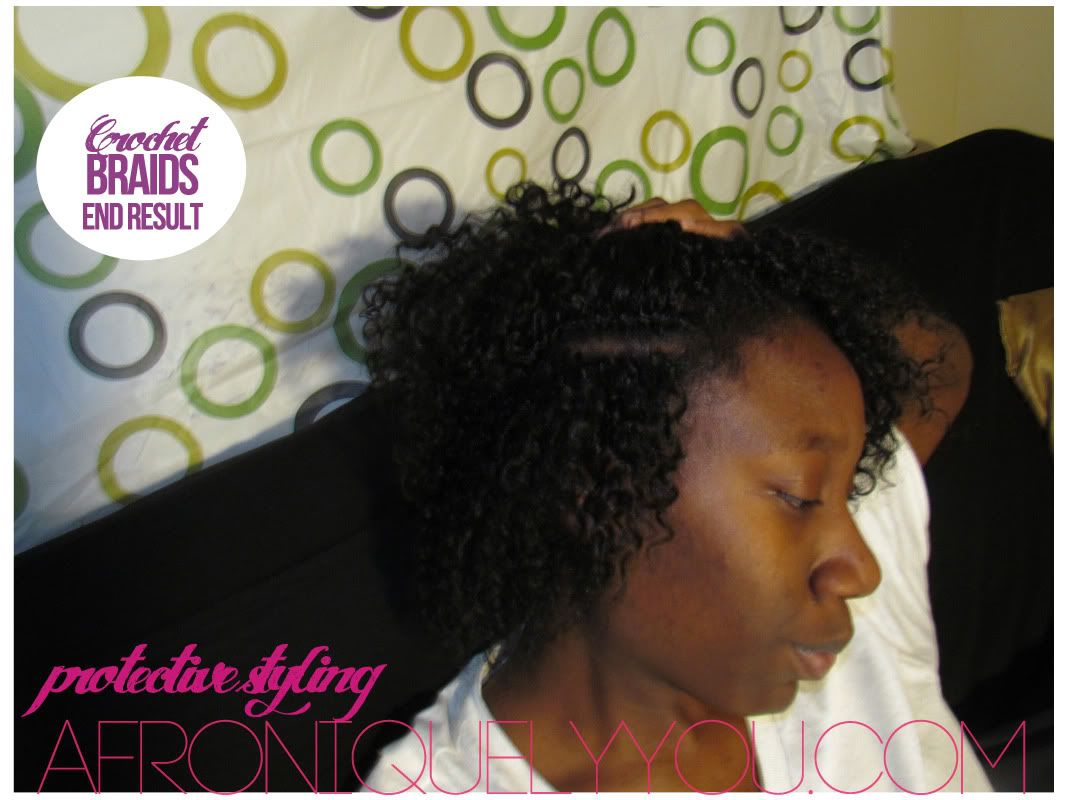 side parted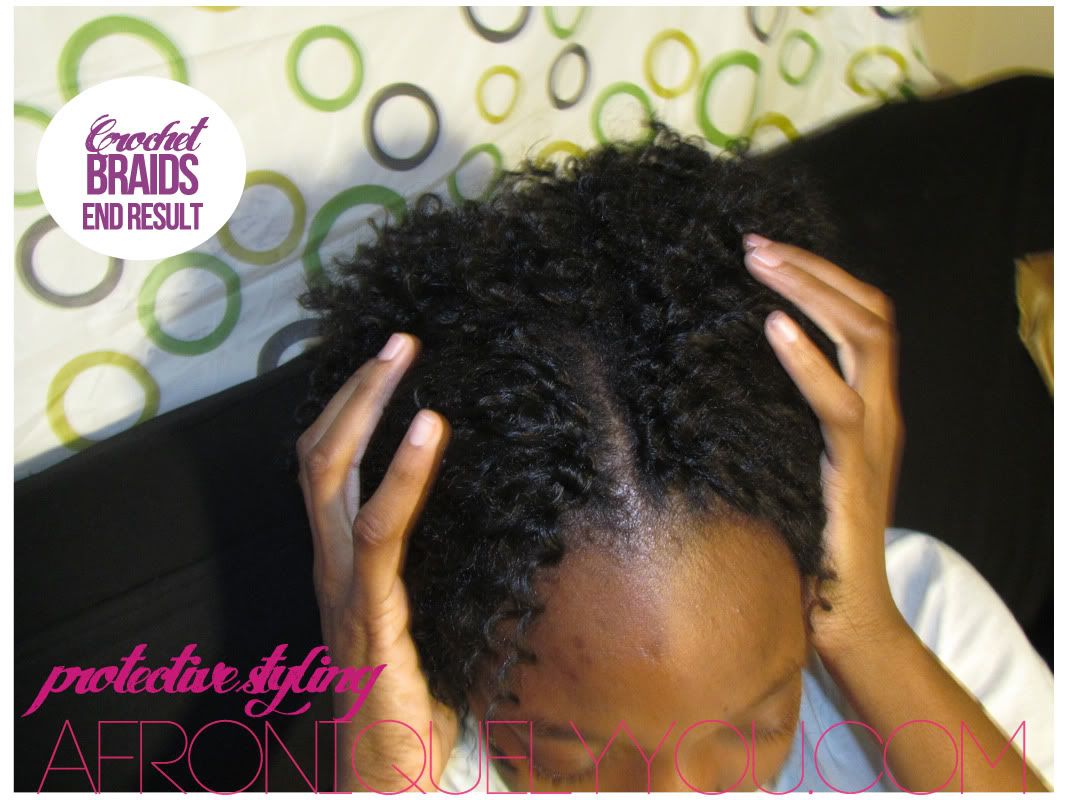 middle parted
overview of the look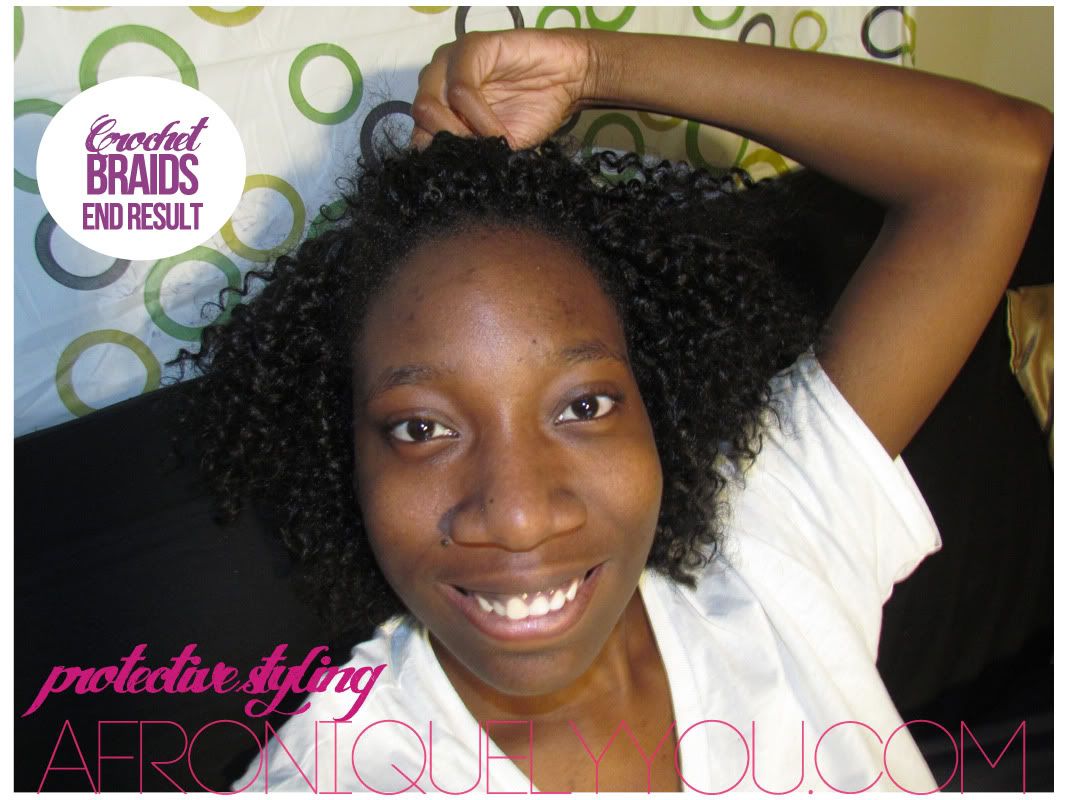 all smiles! I was very happy with the turn out, and considering this was my first try, I am certainly pleased with it. Now I know to do better next time, especially where the cornrows are concerned.
Here are the videos I mentioned:
Video by MissGlamourGirl1992:
[youtube http://www.youtube.com/watch?v=RQed7jWS72Y]
Video by immaDstarra:
[youtube http://www.youtube.com/watch?v=2dD2fcxe1zo]
Video by BlckHair4U:
[youtube http://www.youtube.com/watch?v=Otp4M5UWv84]
share with me: are you liking the crochet braids?
~Hope you enjoyed
Make sure you are following me on Twitter, Facebook & Youtube for more on hair, beauty and simplified